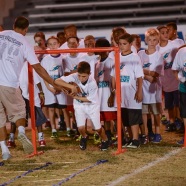 Miami Dolphins offer free youth clinic for boys and girls ages 6 to 14 as part of the 27th Rotary South All-Star Classic
UPDATE!!!!!  Sign-ups have reached maximum capacity and registration is now closed. Only pre-registered children will be admitted to this event.
On behalf of the Miami Dolphins, Rotary Club of Fort Myers South invites area boys and girls ages six to 14 to attend a free youth football clinic 6 to 8 p.m. on Tuesday, December 8 at Fort Myers High School. Young athletes will be inspired by these generous NFL heroes and learn leadership and teamwork, while they work out like the pros.
This exciting event is offered as part of the 27th Annual Rotary South All-Star Classic. The action-packed three-day schedule includes an award banquet honoring Lee County's top football players and cheerleaders on Dec. 7 and the highly anticipated All-Star Football Game on Dec. 9.
The clinic is a grassroots Miami Dolphins program emphasizing education, physical fitness and positive choices for youth in a safe and fun environment. Former Dolphins players will encourage the children to become "DolFit" kids. The boys and girls will participate in real Dolphin drills featuring obstacle courses, hurdles, knock-away dummies, ladders and halfback pads.
Every participant in the clinic will receive a complimentary ticket to the Rotary South All-Star Classic football game on Wednesday, December 9 at 7:00 p.m. at Fort Myers High School. The All-Star Classic football game showcases the best senior players from across Lee County's public and private high school football teams in a north vs. south competition. Dolphins' alumni will attend the game and serve as honorary coaches.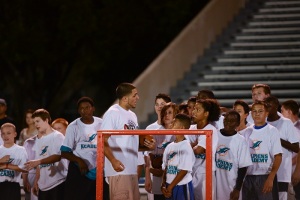 Sanibel resident and football enthusiast John Carrigan founded the Rotary South All-Star Classic in 1989. This event was the first countywide organized football game in the state of Florida. Carrigan's vision of football paired with fundraising has continued since then under the continued leadership of Rotary South. Proceeds from the event are used to support college scholarships, as well as grants for local community organizations. Rotary Fort Myers South is grateful for the support of Bell Tower Shops, which has signed on as Title Sponsor of this year's All-Star Classic.
The Rotary Club of Fort Myers South is currently seeking donations and sponsors to help cover the cost of this annual event. Area businesses or individuals can sponsor the event, a team, player or cheerleader. There are also opportunities to advertise in the event program featuring the student athletes that are being honored. For more information on sponsorship or ticket sales, please contact Gerry Poppe at gerry.poppe@water.net.