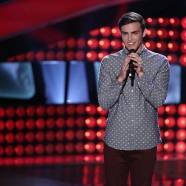 Top 20 contestant from the current season of NBC's The Voice, Ricky Manning will be the featured soloist at the Rotary South All Star Classic football game on Wednesday, December 10th.  Manning will sing the national anthem at the beginning of the game, and will be available to interact with fans.
Manning, 19, is from Cape Coral and is a graduate of North Fort Myers High School. During his time on the show, he said he moved to New Jersey and gave himself two years to make it in the music business.  On Twitter (@TheRickyManning), he's grown a large fan base of followers, which he's nicknamed "fannings".  He will be promoting his upcoming homecoming/celebratory show at Dixie Roadhouse on Saturday, December 28 (his 20th birthday!).
The Rotary South All Star Classic features some of the best Lee County senior football players in an annual north vs. south matchup, complete with cheerleaders from each school. The event is now in its 26th year.  The football game kickoff is scheduled for 7:30pm on Wednesday, December 10, 2014 at Fort Myers High School's Edison Stadium/Sam Sirianni Field.  Admission is $5 per person, and parking is $5 per vehicle including an event program.