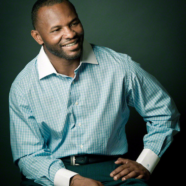 Rotary Club of Fort Myers South is pleased to announce that University of Florida and NFL alum Fred Taylor will be the keynote speaker at the Rotary South All-Star Classic football banquet on Monday, December 5 at Broadway Palm Dinner Theater.   Taylor will address the high school senior all star football players, cheerleaders, their parents, coaches, and other community supporters who will be at the event.
Fred Taylor was born in Pahokee, Florida. He attended Glades Central High School where he was a standout high school football player for the Glades Central Raiders. Taylor played basketball also participated in Track-N-Field. Taylor initially played linebacker, but switched to running back as a junior where he excelled in his first season at the position. As a senior, he ran for 1,700 yards and 22 touchdowns, including a 301-yard, 5-touchdown outing. He received Florida "Super Senior", all-state honors. Fred was also a Parade All-American selection which
recognized him as a top prospect on the national level.
Taylor accepted an academic-athletic scholarship to attend the University of Florida in Gainesville, Florida, where he played for coach Steve Spurrier's Florida Gators football team from 1994 to 1997. He started two games as a true freshman, leading the team's ground attack by picking up 873 yards and eight touchdowns. In 1996 Fred played a huge part in the Gators success, running for 629 yards, five touchdowns, and helping the 12–1 Gators win the
FIRST national championship IN SCHOOL HISTORY. As a senior team captain in 1997, Taylor was the team's leading rusher with 1,292 yards on 214 carries and scoring 13 touchdowns, earning first-team All-Southeastern Conference (SEC) recognition and Associated Press third-team All-American honors, and was chosen by his teammates as the Gators' most valuable player. He finished his college career ranked fourth in school history with 3,075 yards and 31 touchdowns.
After a successful college career, Taylor went on to the NFL Combine, where he would run a blazing 4.25 forty for the NFL scouts. Taylor was drafted ninth overall in the 1998 NFL Draft by the Jacksonville Jaguars. Taylor started 12 of 15 games for the Jaguars as a rookie in 1998, rushing for 1,223 and 14 touchdowns, while also catching 44 passes for 421 yards and three touchdowns. Taylor set 63 Jaguars team records as a rookie and was runner-up Rookie of the
Year to Randy Moss. Taylor achieved many accolades during his 13 year NFL career, including
an All-Pro and a Pro Bowl selection.
In 2007, 13 years after he graduated from high school, the Florida High School Athletic Association (FHSAA) recognized Taylor as one of the "100 Greatest Players of the First 100 Years" of Florida high school football. The annually played Florida/Georgia game, Hall of Fame inducted Taylor as a member in 2008. In 2010, the University of Florida inducted Taylor as a member of the UF Athletic Hall of Fame. For this, he is known as a "Gator Great".
Taylor retired as a Jacksonville Jaguar on September 2nd, 2011. The following year, Taylor was honored by the team as he became a member of the Pride of the Jaguars (Ring of Honor). Fred Taylor's name will hang in the Jacksonville Jaguars stadium forever. This honor is one held in high regards and exemplifies the integrity, dedication, and perseverance Taylor displayed as a person and professional athlete.
Taylor received Hall of Fame induction honors from the Palm Beach County Sports Commission Hall of Fame in 2013. During the induction ceremony, Taylor's son Kelvin (who is currently with the San Francisco 49ers practice squad) received recognition as the Palm Beach County Athlete of the Year. That same year Fred Taylor was inducted into the State of Florida Sports Hall of Fame. In 2015, Taylor was recognized as a "Living Legend of the SEC" by the
Southeastern Football Conference and inducted the SEC Hall of Fame.
Taylor's playing days are done. His legacy as a superior athlete will live for generations. Taylor recognizes his accomplishments and also recognizes that without having faith, humility, respect and being self-motivated, none of it would exist. He gives thanks to his LORD AND SAVIOR each and every morning for all the blessings bestowed upon him.
Taylor is married to his beautiful wife Andrea and is a father of five young men, (Kelvin, Inari, Austin, Braylon and Cannon) and one daughter (Nataajah).