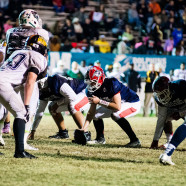 The Rotary Club of Fort Myers South is pleased to announce the 2015 football players and cheerleaders who have been selected to represent their schools in the 27th Annual Rotary South All-Star Classic this December.
These outstanding seniors are chosen by a committee made up of coaches and athletic directors from participating high schools. This year's All-Star game which is an annual tradition going back 27 years –  is set for 7:00 pm on Wednesday, December 9th at Fort Myers High School.  Tickets are $5 per person at the gate, and parking is $5 per car (includes a game program).  The Miami Dolphins will once again be supporting this event by decorating the stadium and being represented at the event by Dolphins' alum and staff.
The All-Stars will receive additional recognition at a banquet to be held at Broadway Palm Dinner Theatre on Monday, December 7th where NFL celebrity, former Miami Dolphin Kim Bokamper will be the keynote speaker.
In addition, the All-Stars will volunteer at a youth football clinic presented by the Miami Dolphins at Fort Myers High School the evening of Tuesday, December 8th.  The clinic is free and open to boys and girls, ages 6-14.  Pre-registration is required and space is limited.
Proceeds from each year's All-Star Classic go to fund charitable giving to worthy causes in our local community by the Rotary Club of Fort Myers South.  These events would not be possible without our sponsors, who include MVP sponsor Telebrands, and many other fine companies.